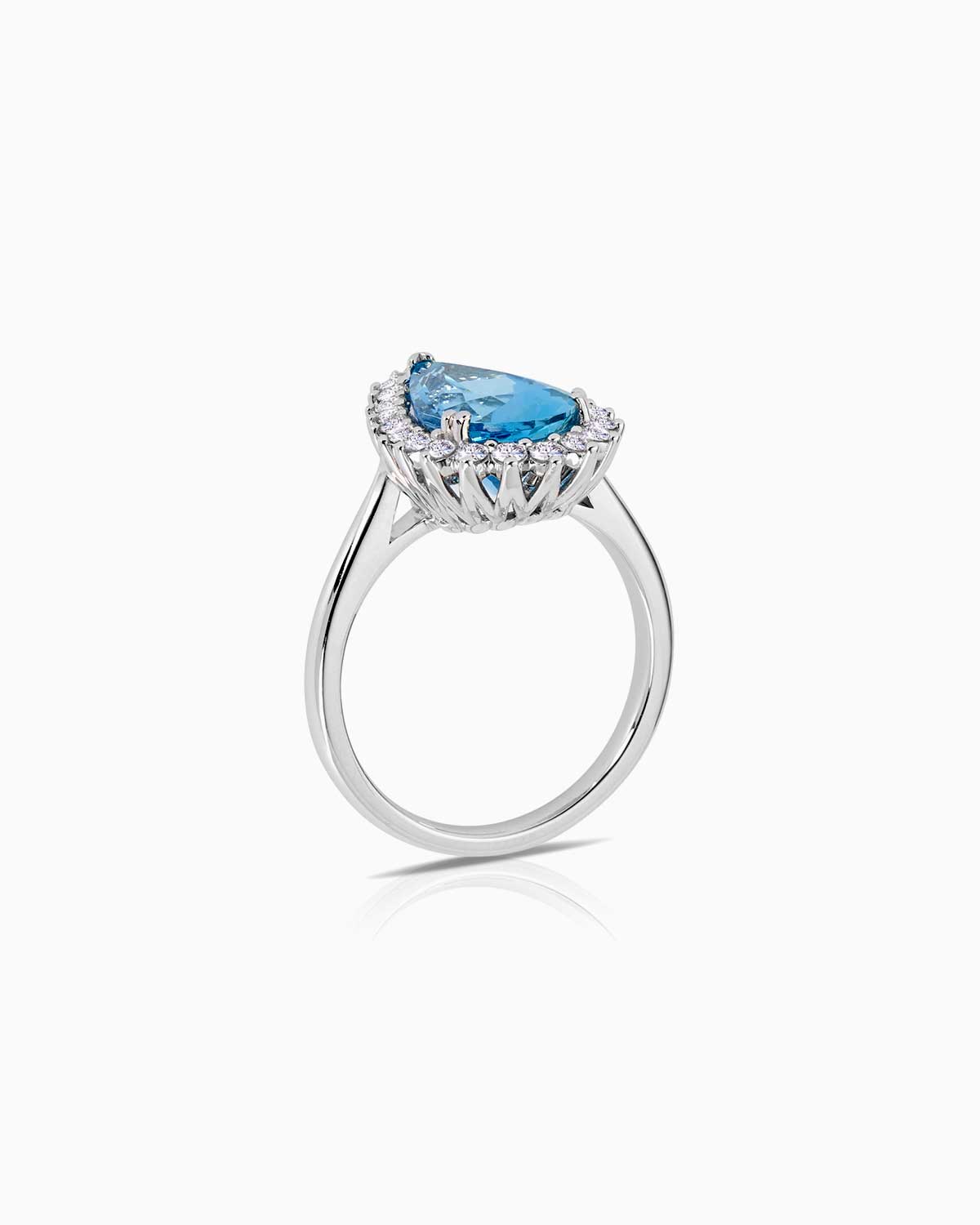 2.84ct Aquamarine Ring 'Pictus'

Complimentary Gift Wrapping
Let us make your gifts shine with our complimentary gift wrapping service. The perfect finishing touch for a season filled with love and joy.
Description

Introducing our breathtaking 'Pictus' Aquamarine Ring, a luxurious and captivating piece of jewelry that will make a stunning addition to any jewelry collection. This ring features a mesmerizing 2.84-carat Aquamarine gemstone, which is renowned for its serene and calming blue hue.

The ring band is made from 18k white gold, which is a premium and durable material that is highly prized for its luxurious shine and lustrous finish. To add even more brilliance and sparkle, the ring is adorned with a halo of certified GSI white diamonds that encircle the aquamarine stone.

Our skilled artisans have expertly handcrafted and polished this ring to perfection, ensuring that every detail is flawless and every facet shines brilliantly. This ring is not just a piece of jewelry but a work of art that is designed to be cherished and admired for generations to come.

Whether you're looking for a gift for a loved one or want to treat yourself to a luxurious and stunning piece of jewelry, the 'Pictus' Aquamarine Ring is sure to exceed your expectations and become a cherished possession that will last a lifetime.
Care Guide

Frequent cleaning is recommended to maintain your jewellery. we recommend gently wiping your jewellery of excess skin oils or makeup after wearing. store your pieces individually and away from direct sunlight.

Complimentary jewellery cleaning & polishing available in store with every Claude & Me piece.
Production & Responsibility
Sustainability Ethos

Claude & Me Jewellery holds itself to a high ethical standard by providing customers with precious metals and gems that are naturally and responsibly sourced. Our commitment to sustainability focuses on responsible manufacturing, responsible consumption, and responsible leadership.  As we grow our company and community, we will continue to partner with artisans and manufacturers who are committed to ethical business practices. Ultimately, we hope that we can make this planet a better place one Claude & Me piece at a time.