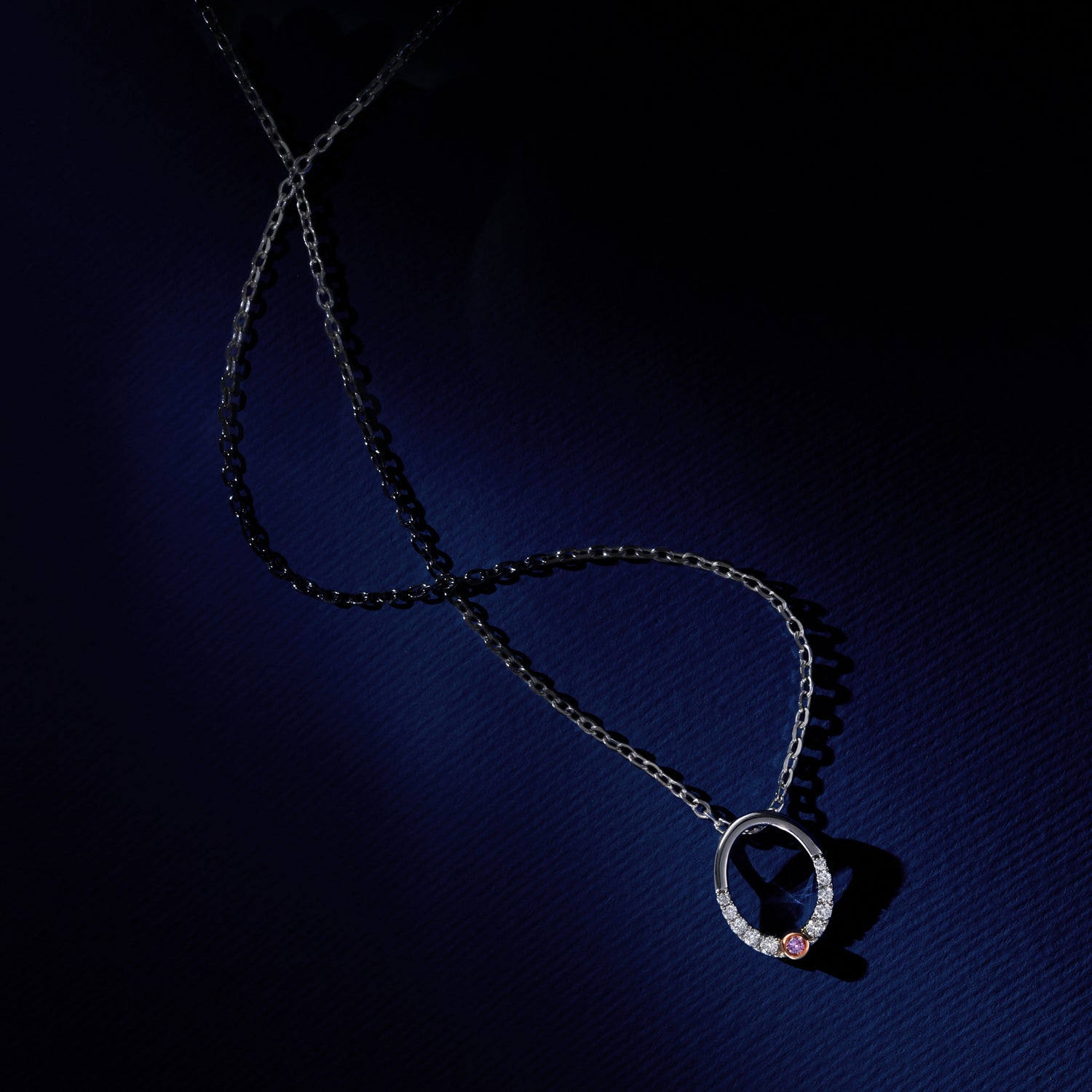 Argyle Pink Diamond Oval Pendant

Complimentary Gift Wrapping
Let us make your gifts shine with our complimentary gift wrapping service. The perfect finishing touch for a season filled with love and joy.
Description

A symbol of understated elegance and exquisite beauty. This graceful oval pendant is a masterpiece of design, showcasing a dazzling 0.023Ct Argyle Pink Diamond sourced from the prestigious Argyle Lot 459399, set in 18k Rose Gold.

At the heart of this pendant lies a true marvel of nature - the Argyle Pink Diamond. With its captivating pink hue, it's a testament to the rare and remarkable. This gem exudes a sense of timeless sophistication, making it the ideal choice for those who appreciate the finer things.

The Oval Pink Diamond is artfully framed by a collection of Graduating White Diamonds that gracefully accentuate its beauty. These diamonds, totaling 0.123Ct and ranging from F to G in colour, add a touch of brilliance to the pendant. Their sparkling presence creates a dazzling contrast against the pink diamond, resulting in a visual symphony that is both striking and harmonious.

Care Guide

Frequent cleaning is recommended to maintain your jewellery. we recommend gently wiping your jewellery of excess skin oils or makeup after wearing. store your pieces individually and away from direct sunlight.

Complimentary jewellery cleaning & polishing available in store with every Claude & Me piece.
Production & Responsibility
Sustainability Ethos

Claude & Me Jewellery holds itself to a high ethical standard by providing customers with precious metals and gems that are naturally and responsibly sourced. Our commitment to sustainability focuses on responsible manufacturing, responsible consumption, and responsible leadership.  As we grow our company and community, we will continue to partner with artisans and manufacturers who are committed to ethical business practices. Ultimately, we hope that we can make this planet a better place one Claude & Me piece at a time.