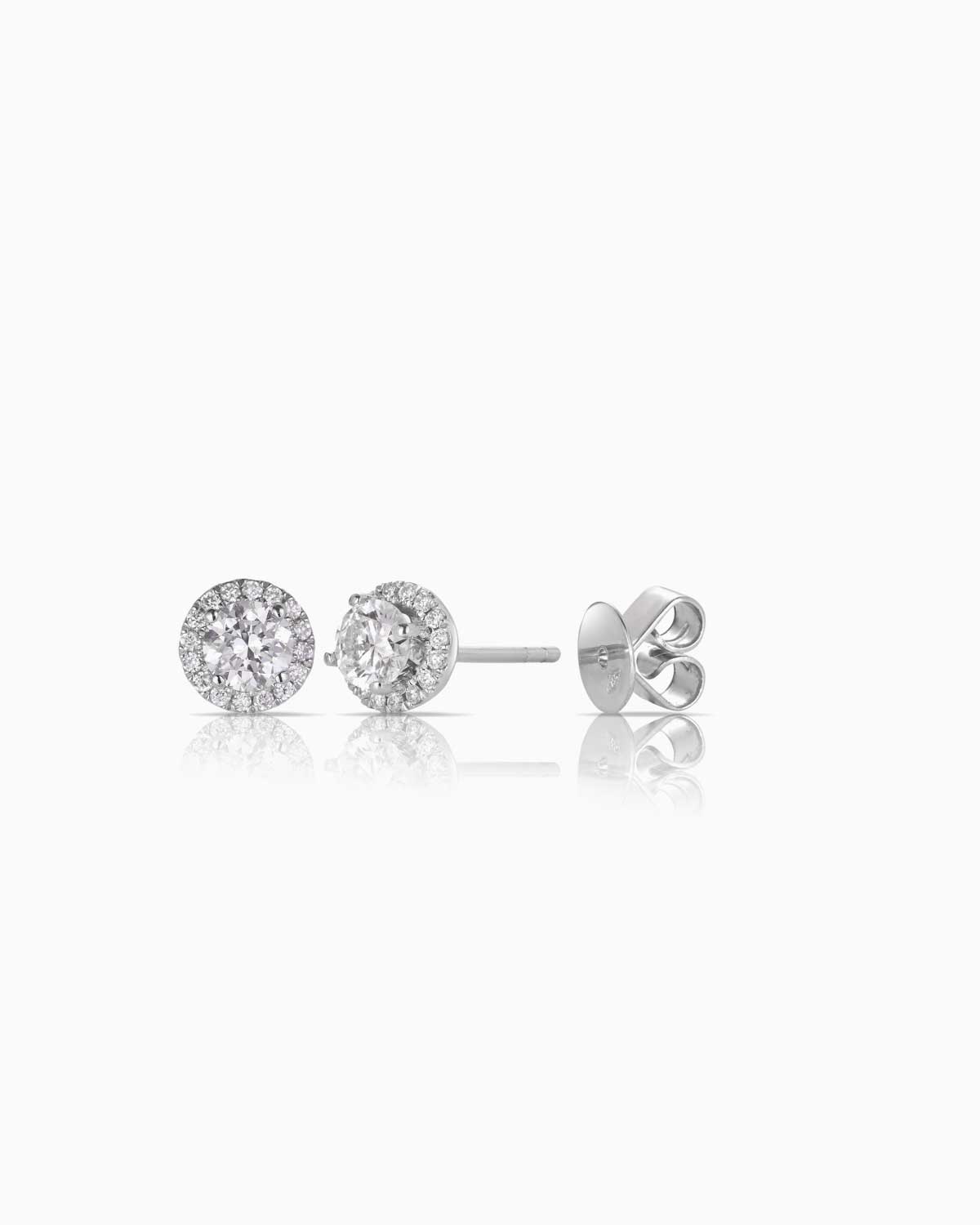 Description

Introducing the epitome of luxury and elegance - our 18 karat white gold diamond halo earrings. These exquisite pieces of jewellery have been crafted with the finest attention to detail and feature a stunning 0.25ct centre stone in each earring, surrounded by a sparkling halo of G/F SI quality diamonds.

Each diamond has been hand-selected and meticulously set by our expert craftsmen, ensuring that the earrings boast a total carat weight of 0.63ct. The combination of the high-quality diamonds and the lustrous 18 karat white gold setting creates a truly breathtaking display of brilliance and fire.

These earrings are not only a stunning accessory for special occasions but also an investment piece that will be treasured for a lifetime. Their timeless design and exquisite craftsmanship ensure that they will never go out of style and will remain a cherished addition to any jewellery collection.

Make a statement of luxury and sophistication with our 18 karat white gold diamond halo earrings. Treat yourself or a loved one to the ultimate symbol of opulence and refinement.
Care Guide

Frequent cleaning is recommended to maintain your jewellery. we recommend gently wiping your jewellery of excess skin oils or makeup after wearing. store your pieces individually and away from direct sunlight.

Complimentary jewellery cleaning & polishing available in store with every Claude & Me piece.
Production & Responsibility
Sustainability Ethos

Claude & Me Jewellery holds itself to a high ethical standard by providing customers with precious metals and gems that are naturally and responsibly sourced. Our commitment to sustainability focuses on responsible manufacturing, responsible consumption, and responsible leadership.  As we grow our company and community, we will continue to partner with artisans and manufacturers who are committed to ethical business practices. Ultimately, we hope that we can make this planet a better place one Claude & Me piece at a time.